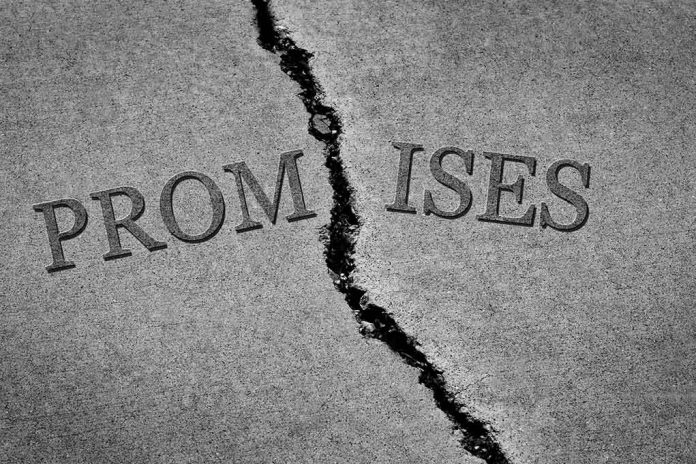 (UnitedVoice.com) – President Joe Biden is dealing with a border crisis that many Conservatives believe is of his own making. When he took office, he reversed many of former President Donald Trump's hardline immigration policies. It was among the promises he made to the American people when he was running for office.
Soon, the migrants were pouring across the border. While he tries to end the crisis, he's had to walk back his promises.
A Broken Promise
During the 2020 race for the White House, Biden spoke to NPR's Lulu Garcia-Navarro and made a bold promise: "There will not be another foot of wall constructed on my administration, number one."
Biden said he was going to focus on technological ways to keep people from illegally crossing instead. It didn't take long for the president to break that promise after he was in office.
In 2022, The Intercept reported the Biden Administration was completing Trump's border wall in Arizona. Construction had been started again on sections of the wall in Coronado National Forest and the Buenos Aires National Wildlife Refuge. Myles Traphagen, the borderlands coordinator for the Wildlands Network, told reporters that he saw the areas being staged and a security guard said construction was beginning on the area again. He said, "It's feeling like it felt during border wall construction with Trump."
The administration also filled in gaps in the border fence in Yuma, Arizona. Homeland Security Secretary Alejandro Mayorkas authorized the work around the Morelos Dam.
Now, the Biden Administration is once again breaking the campaign promise and constructing more border wall in Texas.
Biden Suspends Rules
The Biden Administration recently waived 26 federal laws to allow approximately 20 miles of border wall to go up in South Texas. The funds for the project were allocated by Congress in 2019. The president defended his administration on October 5, saying he tried to redirect the money to other projects, but Congress wouldn't allow it to happen, The Associated Press reported.
"The money was appropriated for the border wall," Biden said. "I can't stop that."
Biden said the law required the construction to be completed in 2023, arguing he had no choice but to start construction again. A reporter asked the president whether he thought the new barrier would prevent people from entering the country, and he responded, "No."
Homeland Security Secretary Alejandro Mayorkas said the administration's position that the "border wall is not the answer" hasn't changed.
Mexican President Andres Manuel López Obrador responded to the news, saying that it was a "setback" and doesn't "resolve the problem."
Copyright 2023, UnitedVoice.com