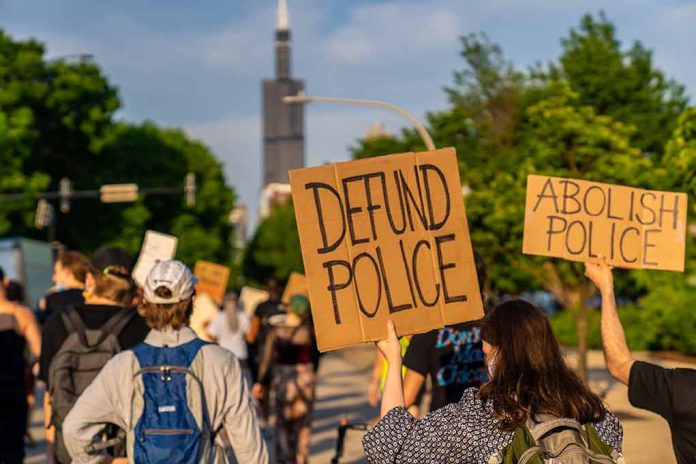 (UnitedVoice.com) – A movement on the Left to defund the police began in 2020 after the murder of George Floyd by former Minneapolis officers. Most Democrats quickly realized the narrative wasn't a winning one and backed off from it. Now, it appears President Joe Biden has killed it for good by giving hundreds of departments more money.
On November 2, the White House announced $334 million in grants to help law enforcement agencies hire more officers, advance community policing efforts, and protect schools. US Associate Attorney General Vanita Gupta told the press that the Office of Community Oriented Policing Services will receive about $217 million so 394 police departments nationwide can hire approximately 1,730 officers.
In addition to the funding for officers, the Biden Administration has allocated $73.6 million for school safety. The money will go to 206 school districts and other state and local agencies to improve security at learning institutions. Finally, the administration is splitting $43 million between 178 local governments to fund community policing and de-escalation strategies, and to support crisis intervention teams.
While the president has killed the idea of defunding the police, those are all programs Democrats support. When they called for defunding the departments, they said they wanted the money to pay for services like crisis intervention teams that included mental health professionals.
Crime rates are an issue Democrats will have to reckon with in the next election. In May, a Gallup poll showed it's one of the top 10 issues Americans are most concerned about. That could create problems for Biden as he heads into his reelection campaign. The increased funding for police departments is a way for the administration to demonstrate it's taking the problem seriously, instead of repeating the anti-cop narrative of the far-left.
Neera Tanden, the director of the White House Domestic Policy Council, told reporters the grants are vital to help communities "fight violent crime and continue to advance community policing nationwide."
Copyright 2023, UnitedVoice.com