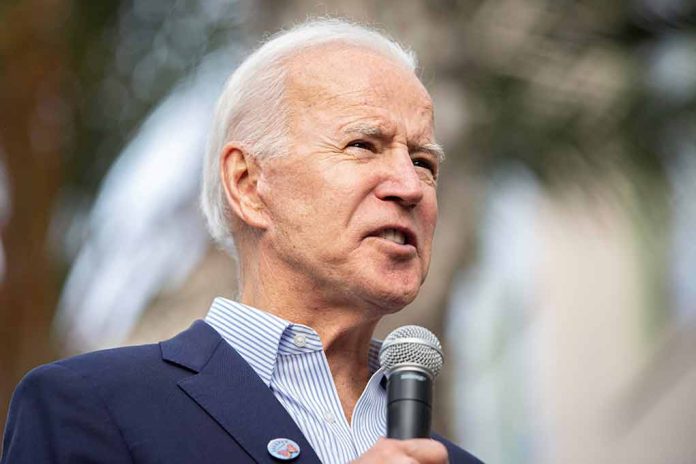 (UnitedVoice.com) – President Joe Biden's approval rating among the American people has been abysmal since he pulled troops out of Afghanistan in 2021. Comparatively, his support among Democrats has remained high — until now.
On October 26, Gallup released its latest poll related to Biden's approval numbers. The survey was conducted between October 2 and October 23. It showed his support among members of the Democratic Party slid by 11 points from September. Only 75% of Dems support the president, compared to 86% the previous month.
The poll comes at a time when Progressives have expressed anger at the way Biden has handled the war between Israel and Gaza. The president has repeatedly expressed staunch support for Israel in the wake of the October 7 terrorist attack by Hamas that left hundreds of innocent civilians dead. Far-left Dems have called for the president to support a ceasefire in Gaza after Israel cut off electricity, water, and food to the region and proceeded to bomb it for weeks.
Progressive Democrats are demanding Biden stop funding the Israeli military and take a firm stance against the country's campaign in Gaza. X, formerly Twitter, users have taken to the social media platform to declare that they won't ever vote for Biden again. One user called him a "[s]pineless war monger."
I will never vote for Biden again. Spineless war monger.

— Asa Soltan Rahmati (@AsaSoltan) October 28, 2023
Another user said the president is "on the wrong side of history" and wrote that she will "never forgive him for abiding genocide" in Gaza.
I'm a die hard Democrat. I am a neighborhood leader for my local party. I voted for Joe Biden and defended him against foes for years. But I will never forgive him for abiding genocide right now. He's on the wrong side of history. I will struggle to vote for him again.

— Rach in PDX (@RachinPDX) October 29, 2023
The president's approval numbers aren't just sinking with Democrats, they're also dropping with Independents and all Americans. With Independents, his approval dropped from 39% to 35%. It fell below 40% with all US adults, dropping from 41% to 37%. According to Gallup, his approval rating has fallen below the 40% mark four times since he took office.
Overall, the numbers don't look good for the incumbent president as he moves toward the general election.
Copyright 2023, UnitedVoice.com