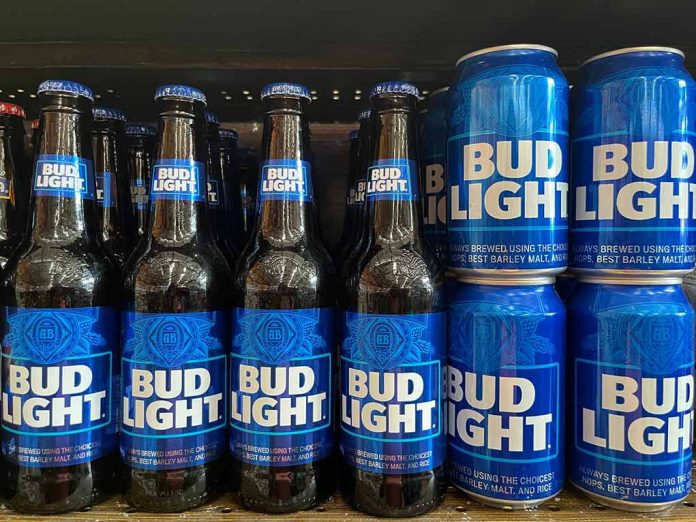 (UnitedVoice.com) – In April, Dylan Mulvaney, a transgender TikTok star, shared that she'd received personalized cans from Bud Light to celebrate her transition. The backlash from Conservatives was immediate, and the company lost $27 billion in market value. Now, the company has received a major boost.
On October 24, UFC CEO Dana White announced a new partnership with Anheuser-Busch. Beginning on January 1, 2024, the company will be the "Official Beer Partner of UFC." According to White, the company and Bud Light was his organization's official beer when the UFC began 15 years ago. He said he is "proud" that they have joined forces once again. The CEO said that he chose to go with the company and beer because he feels as though they "are very aligned when it comes to [their] core values," and he's "looking forward to" their partnership in the years to come.
Although White might be proud of his partnership with Anheuser-Busch, some of his fans are less than thrilled. Calls to reignite the boycott against Bud Light and start a new one against the UFC already started.
Users on X, formerly Twitter, started posting screenshots of confirmation they'd canceled the UFC Fight Pass under the hashtag #CancelFightPass.
. @danawhite @ufc @budlight
Thanks to your new sponsorship I #CancelFightPass plus Im going to save $80 a month on PPV. Know your audience. pic.twitter.com/CHkMurCHk0

— Matt Allen (@thew92) October 24, 2023
Conservative commentator Liz Wheeler announced Conservatives would boycott UFC for saying it didn't have an issue with Bud Light "promoting the evil transgender ideology."
White defended his decision to make Bud Light his official beer. He appeared on Fox News' "Hannity" and said that money is part of the reason he is doing the partnership but that "there are many other things that are important" to him that have nothing to do with money. He said those who were involved in the negotiations know he didn't make the decision based on money.
Copyright 2023, UnitedVoice.com