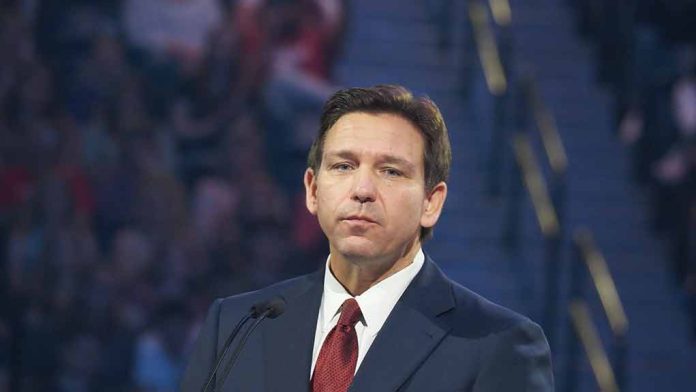 (UnitedVoice.com) – With his usual flair for the grandiose, then-candidate Donald Trump vowed that Americans would get tired of all the winning if voters elected him president during his 2016 presidential bid. However, it doesn't appear that Florida Governor Ron DeSantis (R) is enjoying any of that success during his campaign for the Republican nomination.
The latest polling average released by RealClearPolitics shows DeSantis trailing Trump by a whopping 45 points, and it's hardly any consolation that he leads number three, former United Nations Ambassador and North Carolina Governor Nikki Haley, by 5.5 points.
Recent news reports indicated that DeSantis's campaign suffered another setback as a key aide leaves.
Bad News for Presidential Hopeful Ron DeSantis
On October 10, New York Times White House correspondent Maggie Haberman posted a brief statement on her X/Twitter account from Erin Perrine, the communications director for the pro-DeSantis super PAC Never Back Down.
DeSantis super PAC aide @CortesSteve has left the group, per spokeswoman Erin Perrine. Sorry. "Steve launched his own show and left his role as a spokesman for Never Back Down. He will continue to support Governor DeSantis in his personal capacity," she says.

— Maggie Haberman (@maggieNYT) October 10, 2023
Perrine announced that the political group's spokesperson, Steve Cortes, launched a new show and stepped down from his role as the super PAC's spokesperson. She also advised that he would continue to support the Florida governor's presidential bid "in his personal capacity." Perrine didn't provide any additional information regarding Cortes' new venture.
A few hours later, Cortes confirmed his departure from the PAC. "I've moved on from the presidential primary," he announced. He also posted a short list of his priorities, including helping Republicans take back the White House and Senate in 2024 and growing the conservative majority in the House.
As the PAC noted, I've moved on from the presidential primary.

Much to do:

-retake the WH in 2024
-win back the Senate
-grow the House majority
-continue Hispanic wave to the Right
-expand my new online show & League of American Workers https://t.co/th0Jx02nlA

Stay tuned…

— Steve Cortes (@CortesSteve) October 11, 2023
Cortes listed continuing to push America's Hispanic community towards the Right, expanding his new online program, and supporting the League of American Workers, a group he founded to "shape popular opinion" about workers and push back on the Democratic Party's labor agenda.
Latest Blow to DeSantis' Presidential Campaign
Cortes' decision to leave comes amid a series of setbacks for DeSantis. Late last year, several surveys indicated that the Florida governor appeared to have a real shot at securing the Republican nomination. However, his polling average started plummeting in early April after peaking at 31.3 points to Trump's 44.3 in late January.
Additionally, DeSantis faces a funding issue. Although his campaign has over $13.5 million on hand, only about a third is eligible for use in the Republican primary elections.
On October 10, Trump posted a statement on his Truth Social platform mocking "Ron DeSanctimonious," noting his GOP rival had the polling figures of a "wounded bird falling from the sky." He also called him an "inept" and "terrible" presidential candidate and predicted his campaign would run out of money soon, forcing him to drop out of the race.
Copyright 2023, UnitedVoice.com