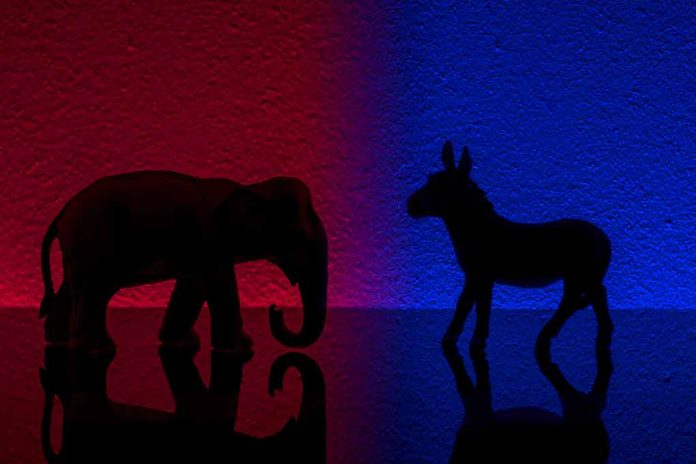 (UnitedVoice.com) – A Democratic congressman is facing a rebellion from a former staffer who's fed up with the illegal immigration crisis at our southern border. Representative Henry Cuellar (D-TX) is, by Democratic standards, a hardliner on migration, but his former press secretary doesn't think he goes far enough. Now he plans to challenge Cuellar for his seat — and he's doing it as a Republican.
Jose Sanz is an immigration success story. Born in Mexico City, he came to the US with his parents when he was nine and grew up in Houston, Texas. After working for ESPN as a sports analyst, he went to work for Representative Cuellar as his press secretary and district manager. He's a perfect example of how immigrants can come to this country, succeed, and make a contribution. However, he's also fed up with people entering illegally — and the Democratic Party's inaction.
On September 27, Sanz announced his intention to run against Cuellar for Texas's 28th Congressional District as a Republican candidate. He promised to be a "strong conservative voice" if elected and said it's time for South Texans to unite and end the flow of illegal immigrants, lethal drugs, and weapons across the border from Mexico. He added that the 28th is a conservative district and wants "a Congressman who will protect their family values and way of life."
Jose Sanz, who worked for two years as the press secretary and later district director for Democrat U.S. Rep. Henry Cuellar, is running for his former boss' seat.

Sanz is running as a Republican, saying he realized his values didn't align with Cuellar's. https://t.co/w0zMf7vOjG

— Texas Tribune (@TexasTribune) September 29, 2023
So far, Cuellar doesn't seem too worried by the competition. In a response to Sanz's announcement, he dismissed his former staffer as the second GOP opponent he's faced who "has no experience and is not from the … District." He went on to boast that he expects another decisive win at next year's election.
Cuellar has discussed the border issue himself recently. On September 24, he told Fox News that there needed to be "repercussions" at the border to deter illegals, and called on Mexico to deport migrants on its territory back to their countries of origin. It's actually hard to see how Sanz could take a harder line on the border than Cuellar does, but at the next election, he'll get the chance to tell us.
Copyright 2023, UnitedVoice.com