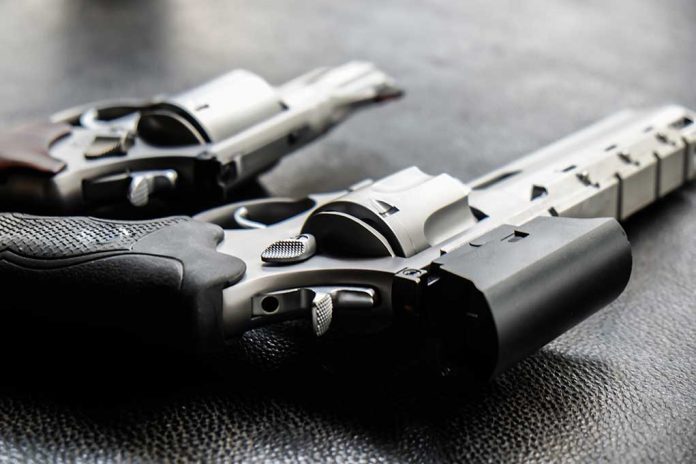 (UnitedVoice.com) – Texas residents are known for holding three things in the highest regard: God, guns, and freedom. However, over the last few years, deaths from guns have risen at an alarming rate. One city is trying to do something a little different to get firearms off the streets.
On November 19, San Antonio is going to host a gun buyback program. Residents who are interested in handing over a gun are invited to Lot B, 100 Montana Street, to do so. The program will give people H-E-B grocery gift cards for each firearm they hand over.
District 9 Councilman John Courage is supporting the buyback program in the hopes that it will reduce the number of guns on the streets. He's asking people to hand over weapons that they might have found, don't want anymore, or think are a danger in their homes. The buyback will be a drive-thru event. Residents who want to attend should place unloaded weapons in the rear or trunk of their vehicles with the safeties engaged. An officer with the San Antonio Police Department will then take the weapon. There's a limit of 20 guns per vehicle.
Those who hand over a homemade or malfunctioning gun will receive a $50 gift card. If someone turns in a handgun, they will get $200. Semi-automatic rifles will fetch $300, and a rifle or shotgun can be exchanged for $150.
Officers will run a check on the guns that are handed over. If they find any stolen weapons, they will return them to their rightful owner.
Firearm deaths have hit the highest level since 1990 in the state. Gun violence swept the country in the '80s and early '90s. In Texas, deaths fell steadily until 1999, then they plateaued. But in 2014, the number of deaths associated with firearms began to rise and has not stopped, despite officials removing nearly all regulations.
Courage is hoping the buyback program will reverse that trend.
Copyright 2023, UnitedVoice.com