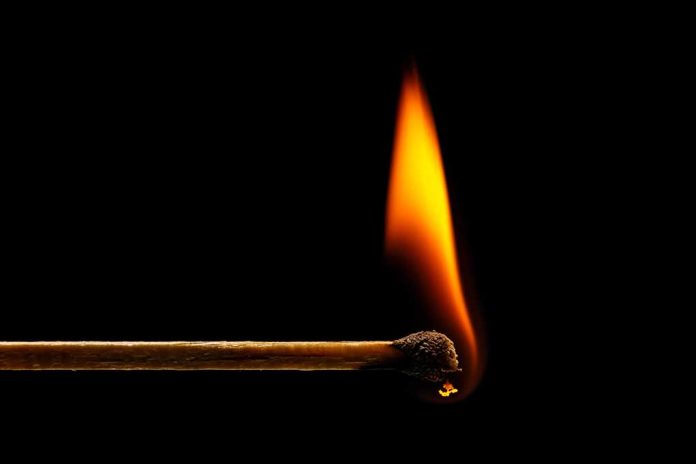 (UnitedVoice.com) – Los Angeles is notorious for its bad traffic. The city of nearly 4 million people often experiences traffic jams. A stretch of one of its main interstates is now closed after a massive fire was intentionally set.
On November 11, the LA Fire Department received reports about a fire in a storage yard. The 200-by-200-foot yard contained vehicles, pallets, trailers, and other things that were all on fire. As often happens in California, the wind pushes the fire, and it spread under the freeway. The blaze made its way into a second storage yard, and that went up in flames as well. Soon, the fire covered about 80,000 square feet.
More than 160 firefighters battled to get the inferno under control. They were able to save three commercial buildings, but there was significant damage to other structures, including a section of Interstate 10. California Highway Patrol Officer Michael Masir told reporters the interstate would "remain closed until further notice."
On November 14, Governor Gavin Newsom (D) announced it would take between three to five weeks to fix the damage to the interstate. He said officials would be working around the clock to get the job done.
NEW: We expect the I-10 Freeway to be reopened to traffic in 3-5 weeks.

The state is working 24 hours a day, 7 days a week to get this done.

— Gavin Newsom (@GavinNewsom) November 14, 2023
State Fire Marshal Daniel Berlant spoke at a press conference, saying officials believe the fire started by arson. Investigators are asking the public to help find the person responsible.
Nearly two miles of the road, which serves as a main artery for commuters who are traveling from San Gabriel Valley, is impacted. Fortunately, samples of the core of the freeway revealed the damage didn't go that deep. That means crews won't have to tear it down and rebuild. Instead, they are going to reinforce 100 support columns.
The damage to the interstate is the second time this year that a major American road has had to be rebuilt after a fire. In June, a tanker truck was in an accident and caught on fire, in Philadelphia. The blaze was so hot it caused the I-95 to buckle and collapse. Officials were able to open the major shipping route in less than two weeks.
Copyright 2023, UnitedVoice.com