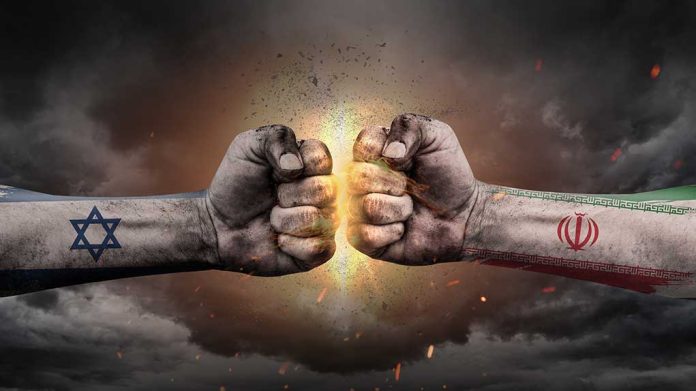 (UnitedVoice.com) – One of the concerns about the war between Israel and Hamas is that it could expand further. Specifically, there's a worry that Iran could use it as an opportunity to attack Israel, the country's mortal enemy. The Iranian government is fueling those concerns with inflammatory rhetoric.
The Conflict
On October 7, Hamas launched a surprise attack on Israel. Iran allegedly helped plan the terrorist attack for months. The Wall Street Journal reported officers who belong to Iran's Islamic Revolutionary Guard Corps worked with the terrorists beginning in August to help them create a plan to attack from the air, land, and sea. The Iranian military reportedly signed off on the attack a week before it happened.
US officials have said they haven't seen evidence that Tehran helped plan and carry out the brutal attack. During an interview on CNN, Secretary of State Antony Blinken said he'd "not yet seen evidence that Iran directed or was behind" it.
Hamas didn't attack the Israeli military when they launched their assault. They went after innocent civilians, including infants. Gunmen raided a music festival and hunted concertgoers, massacring 260 of them. They raided towns and allegedly raped, tortured, and murdered unsuspecting people while they were going about their daily routines.
Israel has warned residents of Gaza that it's planning a ground war and told them to flee the northern part of the region. Now, Iran is threatening to get involved.
Iran's Threats
On Monday, October 16, Iranian President Ebrahim Raisi reportedly had a conversation with President Vladimir Putin and said there's a "possibility of expanding the scope of war and conflict to other fronts." He continued, allegedly saying it would be "more difficult to control the situation" if that occurred.
The threats came two days after the nation reportedly sent a message to Israel through the United Nations (UN), saying it was going to intervene if the Israelis continued attacking Hamas.
Axios reported that Iranian Foreign Minister Hossein Amir-Abdollahian met with Tor Wennesland, the UN envoy to the Middle East. The UN official reportedly asked Amir-Abdollahian to help prevent the war from turning into a regional conflict. However, the Iranian official said his country has red lines and will respond if the ground war moves forward.
Senator Responds
US Senator Lindsey Graham (R-SC) appeared on NBC's "Meet the Press" on October 15. Host Kristen Welker asked the lawmaker about remarks he made saying that the only way to stop the war from escalating is to ensure Iran is held accountable.
Graham confirmed that he said that. He then applauded President Joe Biden for supporting Israel so strongly. Then the senator claimed he's worried about Hezbollah, another terrorist group, using the conflict to fight a proxy war for Iran. He promised to introduce legislation to allow the US to take military action if that comes to pass.
"Iran, if you escalate this war, we are coming for you," Graham said.
Copyright 2023, UnitedVoice.com