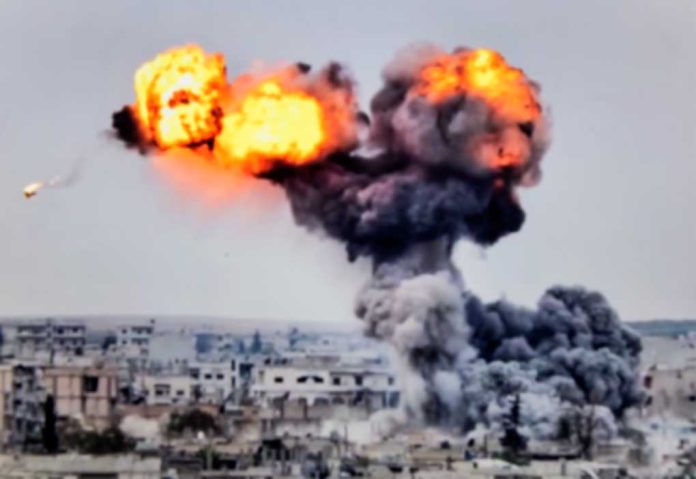 (UnitedVoice.com) – Recep Tayyip Erdogan has served as president of Türkiye (Turkey) since 2014. Prior to that, he was the country's prime minister for more than a decade. He's moved the country farther to the right during his tenure but has also had to deal with a longstanding conflict with the Kurds.
In recent years, Erdogan has repeatedly launched missile strikes on Iraq without the country's permission. He has now bombed the neighboring nation again.
Terrorist Attack
On October 1, a suicide bomber detonated a device near the Interior Ministry. Police officers killed a second suspect. The assailants arrived at the government building in a commercial vehicle they'd stolen from someone after killing him. Two law enforcement officers suffered injuries in the attack, but nobody died except the suspects.
Interior Minister Ali Yerlikaya said the "heroic police officers […] resisted the terrorists as soon as they got out of the vehicle," according to The Associated Press. He went on to say the "fight against terrorism […] will continue with determination."
The attack happened hours before Erdogan spoke at the opening of parliament after its summer recess. He talked about the attack, saying it was "the last stand of terrorism." The Kurdistan Workers' Party (PKK) claimed responsibility for the attack.
Police discovered three hand grenades, one rocket launcher, four types of guns, and C-4 explosives at the scene of the attack. The government also claimed suspicious packages were discovered around the city and used controlled explosions to destroy them. However, officials have not confirmed whether the packages were bombs.
Türkiye Strikes Back
Hours after the terrorist attack, Turkish planes carried out a bombing campaign, its defense ministry announced. Erdogan sent his warplanes across his border and into northern Iraq to carry out the strikes. The ministry reported that 20 PKK targets were destroyed. The targets included shelters and caves.
The Iraqi people are no strangers to bombing campaigns in their country. The United States and its allies were in the country for almost two decades. However, Türkiye's government is conducting the strikes over and over without the permission of the Iraqi government. Even though they, too, are enemies of the PKK, the violations of their sovereignty have infuriated the country's leadership.
Iraq isn't the only target of the Turkish government. Foreign Minister Hakan Fidan spoke out on October 4 about the terrorist attack and said the suspects came through Syria. He warned that energy facilities, infrastructure, and superstructure facilities connected to the PKK in both Syria and Iraq "are legitimate targets of [Türkiye's] security forces, armed forces, and intelligence units" moving forward.
Copyright 2023, UnitedVoice.com