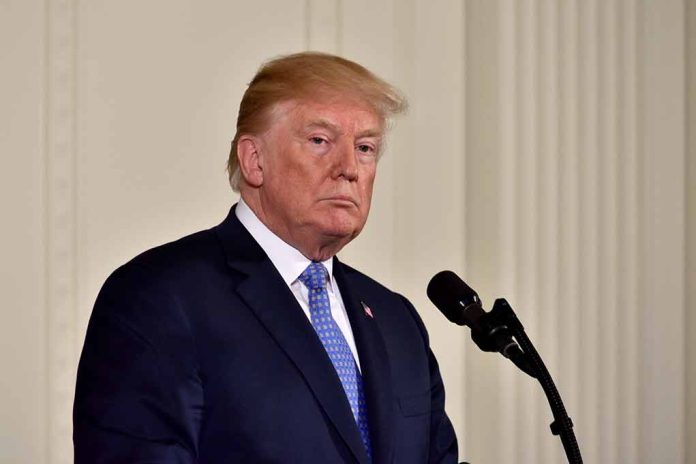 (UnitedVoice.com) – President Donald Trump has vocally expressed his disgust with the legal system since being indicted in two states and two federal jurisdictions. He has spoken out about the prosecutions on social media, television, and at his rallies. While he can still do that, there are some new limitations being imposed on his speech.
Federal Election Case
On October 16, US District Judge Tanya Chutkan issued a limited gag order on former President Donald Trump. The judge is overseeing Special Counsel Jack Smith's case in DC federal court. The former POTUS is charged with four crimes related to his alleged behavior after losing the 2020 presidential election.
In September, Smith asked the court to impose a gag order on Trump. He accused the former president of making threatening statements. The judge agreed with the prosecutor.
In her ruling, Chutkan made it clear that the former POTUS had the right to speak out and declare his innocence. She also said that he had every right to say "he's being unfairly prosecuted."
However, the judge said the former president isn't allowed to make disparaging comments about potential witnesses or the prosecutors. She pointed to Trump's remarks calling Smith a "thug" and "deranged" as examples of remarks that would violate the order. Chutkan said no other defendant in a criminal case would be allowed to attack prosecutors that way, and she wasn't going to allow him to do it just "because the defendant is running a political campaign."
Chutkan didn't explain what punishment she would impose if the former president violated the gag order but noted she could fine him or revoke his bond.
Trump's team appealed the decision on October 17.
The Second Order
The gag order in the DC case isn't the only one issued against the president. Judge Arthur Engoron, the judge overseeing the New York civil fraud trial against the former POTUS and his business, also issued a limited gag order.
In that case, the judge prohibited Trump from speaking about members of the court staff. The ruling came after the former president shared a photo of Allison Greenfield, the judge's principal law clerk. She was photographed with Senate Majority Leader Chuck Schumer (D-NY), and Trump called it "disgraceful."
By the time the judge issued the gag order, Trump had deleted the post.
The former president has pleaded not guilty to the combined 90+ felonies prosecutors have charged him with in New York, Georgia, and federal court. He maintains the charges against him are a continuation of a witch hunt.
Copyright 2023, UnitedVoice.com