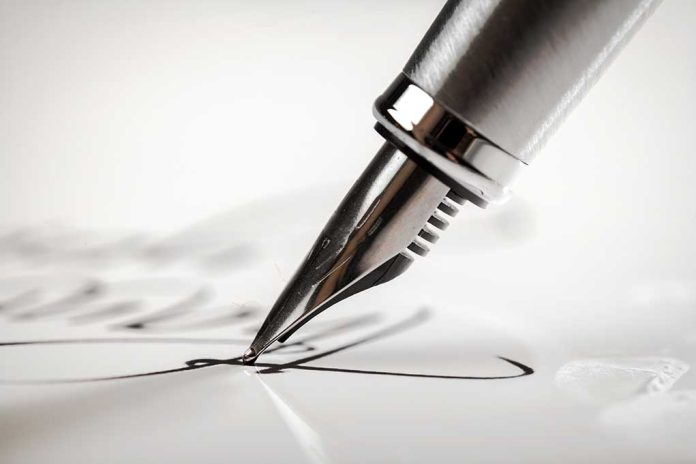 (UnitedVoice.com) – Republican Kari Lake was once a popular television news host in Arizona. In 2021, she pivoted. After 22 years at Fox 10 in Phoenix, she announced she was retiring. In a video statement, the longtime news anchor said that she didn't like the way journalism had changed over the years. She then launched a gubernatorial campaign that ultimately failed. Now, she's made another decision about what's next for her.
Senator Lake?
On October 2, Lake filed paperwork to run for the US Senate. The staunch MAGA Republican is hoping to push Senator Kyrsten Sinema (I) out of her seat. The independent senator was elected as a Democrat but switched parties and became an independent after the 2022 midterms. The switch came after months of abuse from people on the Left who were angry that she wasn't blindly following the party's agenda. She hasn't indicated that she's running for re-election.
Lake hasn't officially announced her Senate bid. However, she's expected to hold her first campaign event in mid-October. She's been floating her potential Senate run since February, but she won't be the only one in the GOP primary. Pinal County Sheriff Mark Lamb, another die-hard supporter of former President Donald Trump, is also running for the seat.
Controversies Surrounding Lake
Lake has been hotly criticized for her behavior after she lost the gubernatorial race to Democrat Katie Hobbs. She lost by approximately 17,000 votes. The former news anchor refused to admit she lost the election, and still hasn't. She has filed multiple lawsuits claiming the race was stolen from her despite having no evidence to prove it was.
To date, Lake has lost all of the lawsuits she filed to overturn the election results. In March, the Arizona Supreme Court refused to hear her election fraud case. They sent one portion of her suit back to a lower court, and in May, a judge threw it out.
Seeking Support in Washington
In a bid to win the US Senate seat for Arizona, Lake visited Washington, DC, where she met with many prominent Republicans, including Sens. Ron Johnson (WI) and John Cornyn (TX). She also spoke with Steve Daines (MT), who is reportedly considering endorsing her.
If Lake wins the GOP primary, she will have to present herself to the same electorate that rejected her the last time around. The race will likely be a tight one. If she succeeds, she might very well give the Republicans a leg up in the Upper chamber once again.
Copyright 2023, UnitedVoice.com