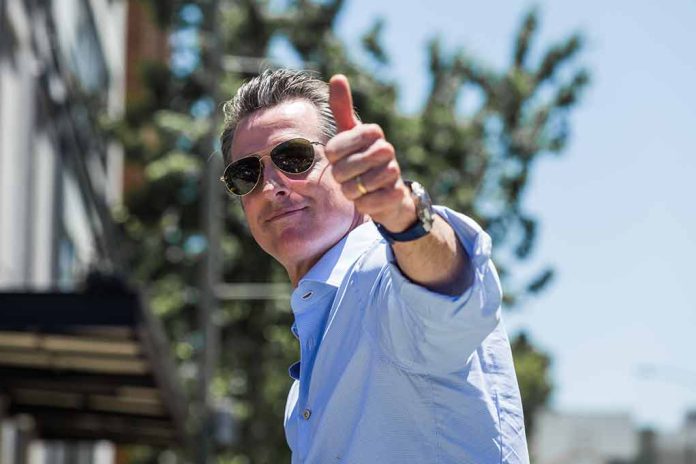 (UnitedVoice.com) – Senator Dianne Feinstein (D-CA) served in Congress for three decades. Sadly, California's 90-year-old senior senator died on September 29 in Washington, DC. Less than a week later, someone is already sitting in her Senate seat.
Long before Feinstein died, California Governor Gavin Newsom (D) said he intended to replace her with a black woman if she left office before her term was up. The state leader was accused of virtue signaling at the time, and those remarks continued after he picked Laphonza Butler to fill the late lawmaker's seat. The governor gushed over her when he announced that she would be filling the role.
It appears the governor checked off all of the boxes for the Democratic Party when he picked her. She's a minority who fought for abortions while serving as president of the pro-choice political action committee EMILYs List, and she is a member of the LGBTQ community. Newsom bragged that Butler is the "first black lesbian to openly serve in the US Senate."
I'm proud to announce California's new United States Senator — Laphonza Butler.

As we mourn the enormous loss of Sen. Feinstein, the very freedoms she fought for — reproductive freedom, equal protection, and safety from gun violence — have never been under greater assault.… pic.twitter.com/SOnbfVPmXj

— Gavin Newsom (@GavinNewsom) October 2, 2023
On October 3, Vice President Kamala Harris swore Butler into office at a ceremony at the US Capitol. Senate Majority Leader Chuck Schumer (D-NY) claimed Feinstein was "looking down at [the] moment with pride now that her seat is in good hands."
It's Official!

Welcome Senator Laphonza Butler (D-CA) to the United States Senate. pic.twitter.com/uOwQ7mS41K

— Senate Democrats (@SenateDems) October 3, 2023
Butler's appointment to the Senate comes during a campaign for that very seat. Reps. Katie Porter (D-CA), Adam Schiff (D-CA), and Barabara Lee (D-CA) are the top three candidates in a race to permanently fill the role. If Butler chooses to run for the seat as well, she could completely upend the race.
California Rep. John Garamendi (D) spoke to CNN on October 2 and said he doesn't believe Butler should throw her hat into the ring, saying the other Democrats have been in the race for almost a year. The new senator hasn't indicated she has any plans to do so.
Copyright 2023, UnitedVoice.com