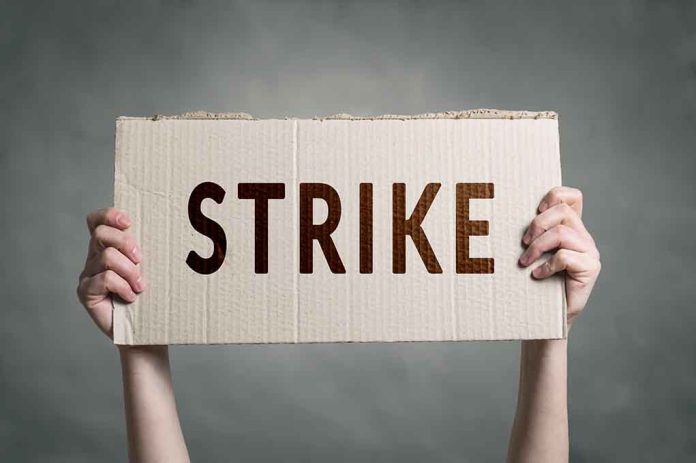 (UnitedVoice.com) – On September 15, auto workers with the United Automobile Workers (UAW) union walked off the job at three assembly plants in Ohio, Michigan, and Missouri. The strike has now grown to include 38 parts distribution centers and eight assembly plants across 22 states. That includes thousands of new striking workers at some of the 'Big Three' auto manufacturers' biggest plants.
On October 23, 6,800 UAW members at the Sterling Heights Assembly Plant (SHAP), Stallantis' largest plant, joined the Stand Up Strike. The workers were responsible for making the company's RAM 1500 pickup trucks. UAW President Shawn Fain has slammed Stellantis for lagging behind General Motors (GM) and Ford when it comes to addressing the demands of unionized autoworkers, despite having more cash in reserves and the highest profit margin.
The next day, on October 24, the UAW announced that 5,000 autoworkers in Arlington joined the Stand Up Strike. The striking workers shut down production at GM's largest plant. The Texas plant is the company's biggest moneymaker and assembles some of the company's most profitable vehicles, like the Cadillac Escalade, Chevy Tahoe, GMC Yukon, and the Chevy Suburban. The decision to join the strike came hours after GM announced its third-quarter earnings topped $3 billion.
The striking workers join more than 30,000 others around the country who are on the picket line. This news comes a week after 8,700 UAW members walked off the job at Ford's Kentucky Truck Plant in Louisville. Fain spoke out and said those workers had "waited long enough, but Ford has not gotten the message." He called on the Big Three companies to give their workers a fair contract.
Auto workers began striking after the companies refused to give back some of the benefits and raises that workers lost in 2007 and throughout the Great Recession. For example, before the automobile manufacturers were bailed out during the recession, the union workers agreed to end their cost-of-living (COLA) raises, they want them back now.
So far, negotiations have not produced any results.
Copyright 2023, UnitedVoice.com