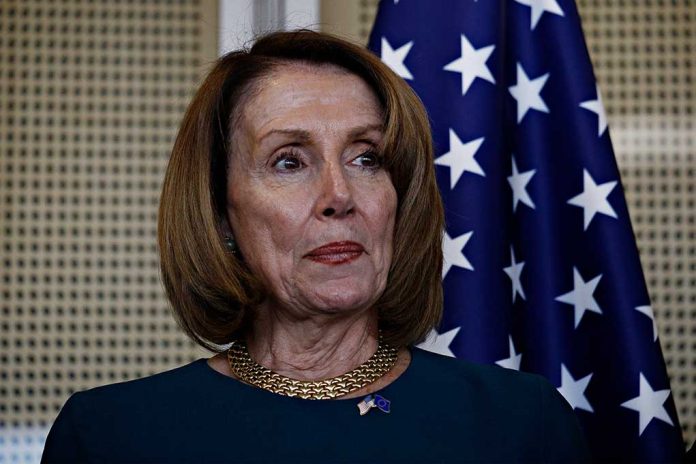 (UnitedVoice.com) – A Gallup poll recently found that 63% of US adults believe the country needs a third party because the Democratic and Republican parties do "such a poor job" of representing Americans. No Labels wants to fill that role by bringing people from both sides of the aisle together to create a less partisan solution to the nation's issues. Former Speaker of the House Nancy Pelosi (D-CA) is not convinced No Labels is good for the country.
On November 2, Pelosi spoke at an event organized by Third Way, a Democratic-centrist group. She said that the group's name is misleading "because they do have labels." She went on to say No Labels has advocated for "no taxes for the rich. No child tax credit for children," and they want to get rid of the Affordable Care Act. All of those positions are conservative. She called it "perilous to democracy."
Pelosi, who has intentionally ignored the group for months, said she decided to speak up because she believes No Labels will make it harder for President Joe Biden to get reelected.
The former speaker isn't the only Democrat to speak out against the group before the 2024 election, which is expected to be so close it'll be won on the margins. Biden has said former Democrat and No Labels Chairman, Joe Lieberman, knows that the party is "going to help" former President Donald Trump in 2024 and though he thinks it's a mistake, "he has a right to do that."
Third Way co-founder Matt Bennett spoke out about No Labels earlier this year in an interview with Pod Save America, a podcast hosted by aides to former President Barack Obama. He said the organization's election map shows their movement is "crazy."
"No independent analysts will even dignify [the No Labels electoral map] with a response because it's so crazy." —@ThirdWayMattB

Listen to why a No Labels third-party run is an absurd idea: https://t.co/WHaRo2C60k pic.twitter.com/u4Hz0TXCok

— Pod Save America (@PodSaveAmerica) July 18, 2023
No Labels is currently trying to get on the presidential ballots in all 50 states. As of the end of October, they were given permission to run their candidates on 12 state ballots, including Arizona and Nevada, which are battleground states. Ironically, the majority of the other states they have won access to are Republican. Those are Mississippi, Alaska, Arkansas, Florida, Colorado, North Carolina, Hawaii, Oregon, Utah, and South Dakota.
Copyright 2023, UnitedVoice.com