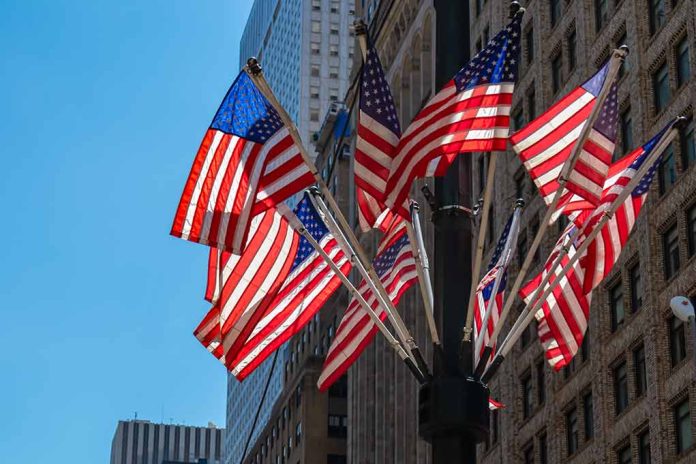 (UnitedVoice.com) – Veteran's Day weekend is a special time in America. It's when the country thanks the people who risk their lives for them. A group of pro-Palestine protesters in New York City didn't get the memo.
On Friday, November 10, thousands of protesters took to the streets in New York City to protest the Israel-Hamas war. During the demonstration, they took to the streets, and at least one of them, a 17-year-old teen, received a citation for scaling a 10-foot light pole and pulling down the United Nations and US flags. He left a Palestinian flag hanging on the pole, and the crowd below him cheered. Police cited him for "creating a hazardous condition" that included a "substantial risk of serious physical injury."
An odd way to honor Veterans Day is to participate in a Pro Palestine rally and tear down American flags pic.twitter.com/ASe1DaZae0

— Shai Goldman (@shaig) November 11, 2023
X, formerly Twitter, users decried the actions of the protesters. One commenter called it "vile and disgusting." Elon Musk, the owner of X, asked if he understood the matter correctly that protesters pulled an American flag down on Veteran's Day. Technically, the incident occurred the day before Veterans Day, but it hardly makes a difference according to angry Americans.
The pro-Palestine protesters didn't just disrespect veterans in New York. President Joe Biden gave a speech at Arlington Cemetery on Veterans Day. Hundreds of protesters gathered in Delaware and protested outside the president's home. They chanted, "Biden, Biden, you can't hide! We charge you with genocide!" The demonstrators were uninterested in honoring the Americans who protect their right to voice their grievances with the government.
The issue of disrespectful protesters isn't unique to the United States. In the United Kingdom, people honored the men who fought in World War I with Remembrance Day. Protesters interrupted those events as well. In London, a group of pro-Palestine activists and a group of men got into an argument in Trafalgar Square.
"Our grandads f—king died for this country!"

A group of pro-Palestine protesters get into an argument with a group of men in Trafalgar Square in London who are holding up a flag to honor #RemembranceDay/#VeteransDay. The protesters said one of the men disrespected Palestine. pic.twitter.com/MobGJnfaqm

— Andy Ngô 🏳️‍🌈 (@MrAndyNgo) November 11, 2023
Activists are angry that the Western world is supporting Israel after a Hamas terrorist attack killed more than 1,400 innocent Israelis.
Copyright 2023, UnitedVoice.com