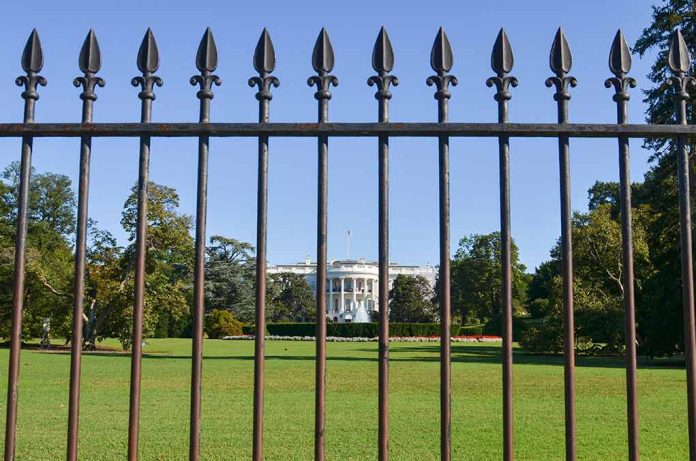 (UnitedVoice.com) – Protests have popped up around the world in the wake of the war between Israel and Hamas. Many of the demonstrations are calling on the Israeli government to stop its bombing campaign in Gaza because of the more than 10,000 civilian deaths. Activists are also angry about President Joe Biden's support of Israel — and they took their message to the White House recently.
On Saturday, November 4, thousands of protesters marched through the streets of Washington, DC, to protest the war. They carried signs that read "Free Palestine" and "Ceasefire Now, Let Gaza Live." The demonstrators placed Palestinian signs and flags on monuments around the city.
As the day turned into night, the protesters gathered outside of the White House. In the early morning hours of Sunday, videos showed the activists trying to climb the fences outside of the president's residence. They also threw red paint on the fence and called Biden "Genocide Joe." The protesters also reportedly threw items at Secret Service agents who were guarding the White House.
BREAKING: Pro-Palestine protesters appear to be threatening to storm through the White House fences and are threatening Secret Service agents.

Multiple video angles show hundreds of angry protesters up against the White House fence.

They also threw red paint on the fence as… pic.twitter.com/zt3092X79x

— Collin Rugg (@CollinRugg) November 5, 2023
Rapper Macklemore, whose real name is Benjamin Hammond Haggerty, was also at the march. The Daily Mail reported that he said he did his own research and came to the conclusion that Israel is carrying out genocide on the Palestinian people.
The Metropolitan Police Department arrested an adult male during the protests. The department issued a press release saying the man was arrested for the destruction of property. The statement also said there were "several minor incidents of property damage and vandalism," including at the McPherson Square Metro Station and police vehicles.
Acting Chief Pamela A. Smith also responded to the protest, saying the department deals with hundreds of demonstrations every year and supports Americans' right to "safely and peacefully" exercise their First Amendment rights.
The Israeli Embassy in DC reported antisemitic graffiti was scrawled on buildings in the city, including "Death to Israel."
Copyright 2023, UnitedVoice.com