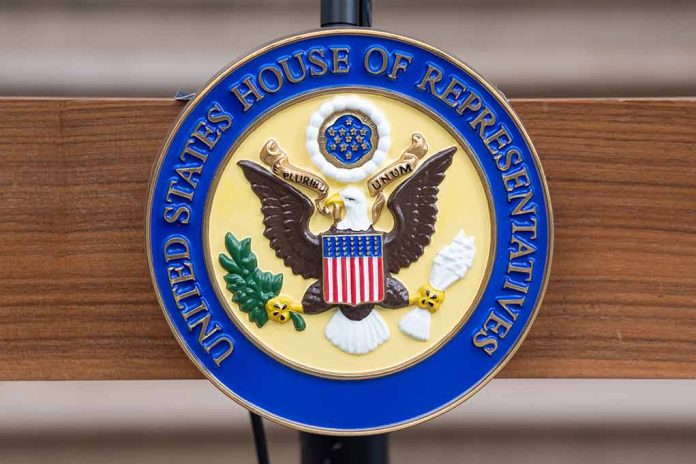 (UnitedVoice.com) – Rep. Kevin McCarthy's tenure as Speaker of the House was tenuous at best from his first day in that office. It took an epic 15 ballots to secure the necessary votes to secure the chamber's gavel. To cross the finish line, he had to make a deal with the devil (metaphorically speaking, of course). He agreed to a rules change in the chamber, allowing only one member to force a vote on a motion to vacate the speakership — a nice way of saying only one person could initiate a move to oust him.
McCarthy Ousted, House in Chaos
Rep. Matt Gaetz (R-FL) took advantage of that measure shortly after McCarthy ruffled feathers within the Republican conference over concessions he made to President Joe Biden during recent negotiations to pass a continuing resolution to keep the federal government funded. Gaetz had previously complained about McCarthy's refusal to hold a vote on term limits, provide proper access to surveillance tapes from the 2021 Capitol Hill riot, and properly spearhead the issuance of subpoenas to Hunter Biden.
On October 3, eight Republicans voted with Democrats and ousted McCarthy, 216 to 210. A chaotic 22-day crisis ensued. The Republican House Caucus nominated three members to replace McCarthy — to no avail.
House Majority Leader Steve Scalise (R-LA) was the first to fall. He withdrew his nomination after controversy erupted regarding his health. Rep. Jim Jordan (R-OH) dropped out after losing three ballots, and Republicans nominated Minnesota Rep. Tom Emmer. However, it only took him hours to drop out amid complaints about his overly-moderate positions on critical issues.
Finally, GOP Conference head Elise Stefanik (R-NY) nominated another Louisiana lawmaker, Rep. Mike Johnson, and he easily secured the House gavel on the first ballot on October 25.
Johnson Offers Insight Into His Speakership
Johnson is a relatively new member of Congress, having assumed office in January 2017. His record indicates his capacity to dot all the "I"s and cross all the "T"s. He helped lead the recent efforts to question the results of the 2020 presidential election. He's an outspoken opponent of LGBTQ+ rights and legal abortion. He voted against funding Ukraine and opposes making any budget compromises with Democrats — regardless of the looming need to pass a clean continuing resolution to keep the federal government funded.
On the evening of October 26, Johnson sat down for a wide-ranging interview with Fox News host Sean Hannity to provide some background on his thinking as the 56th Speaker of the House.
Johnson began by pointing out the radical shift in President Joe Biden's mental acuity. He noted that a quick comparison between Biden's recent speeches and his arguments while serving on the Senate Judiciary Committee reveals a noticeable difference in the President's abilities. He said it wasn't anything personal, "It's just reality."
The new speaker said he didn't support the passage of a funding bill tethering support for Ukraine and Israel. "We need to bifurcate those issues," Johnson explained. He indicated his support for providing aid to Ukraine and warned that China could become empowered were Vladimir Putin to prevail in that conflict. Johnson said he wouldn't rule out the need for US boots on the ground in Israel but said he hoped the situation didn't warrant American intervention on that level.
The interview covered several other topics like gay marriage and China's looming threat. He also said the House would likely uncover evidence of "impeachable offenses" against Biden.
Copyright 2023, UnitedVoice.com