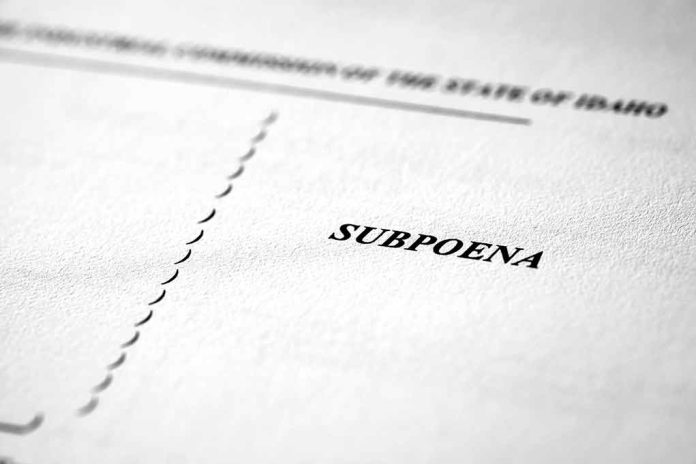 (UnitedVoice.com) – The House Oversight Committee held its first hearing in the impeachment inquiry into President Joe Biden in September. Since then, the activity surrounding the investigation has been pretty quiet. That changed recently when the committee issued new subpoenas.
Biden Family Subpoenas
On November 8, House Oversight Committee Chairman James Comer (R-KY) announced he issued subpoenas to the president's brother, James Biden, and his son, Hunter Biden. The chairman claimed there's evidence to suggest the Biden family "sold access to the highest levels of our government, including Joe Biden himself."
Comer claimed that James and Sara Biden sent President Biden two checks labeled "loan repayments." One of the checks was for $200,000. The chairman previously released a video that alleged the check was sent to Biden on March 1, 2018, when he was a private citizen, on the same day hospital operator Americore paid James a $200,000 loan.
The Kentucky Republican said that even if James Biden was paying back money that he owed to his brother, then, it was "troubling" that James' ability to pay him back depended on how successful his "shady financial dealings" were.
The committee also issued subpoenas to Hunter Biden and various associates, including his art dealer. Comer said George Bergès has refused to respond to the committee's requests for "information related to the high-dollar art transactions on Hunter Biden's art."
Republicans have said they believe the impeachment inquiry will allow them to obtain evidence showing the president was involved in shady business dealings. So far, the committee has not found any hard proof that's been made public. Their witnesses at the September impeachment inquiry hearing said there was no evidence the president committed a crime. The inquiry will allow them to dig deeper.
Democrats Respond
Rep. Jared Moskowitz (D-FL) posted a video on X (formerly Twitter) mocking Comer's video showing him signing the subpoenas. The Florida Democrat said he was issuing his own subpoenas to force the Republican committee chair to explain why he loaned his brother $200,000.
🚨BREAKING🚨

Today, @RepMoskowitz signed "subpoenas" for:

◼️ James Comer

It has been reported that Comer also loaned his brother $200k. We fully expect James to comply, just like the Trumps. https://t.co/0xkbGXC0qm pic.twitter.com/R6dF3dXu4f

— Congressman Jared Moskowitz (@RepMoskowitz) November 9, 2023
Moskowitz told Newsweek that his subpoenas weren't actually real because he doesn't have that power, but he thinks the chairman should explain the circumstances surrounding the loan he gave to his brother. Comer has taken a lot of heat for the alleged $200,000 advance to his sibling because of the remarks he made about Biden loaning James money.
White House Press Secretary Karine Jean-Pierre responded to the subpoenas, saying the probe into the president has been going for "a year now and has turned up zero evidence of wrongdoing […] because there is none."
Copyright 2023, UnitedVoice.com