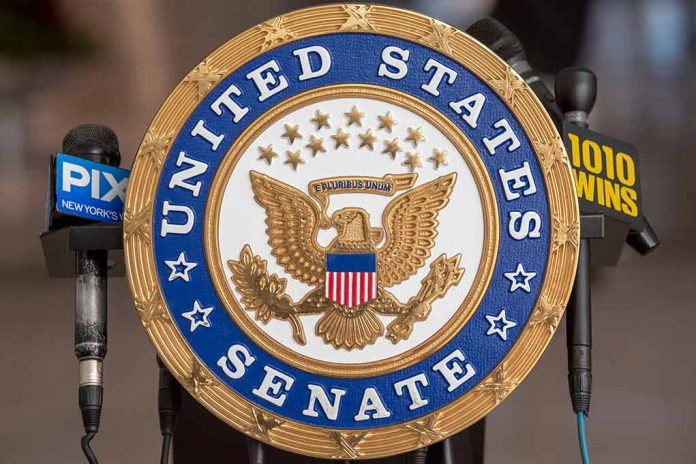 (UnitedVoice.com) – When Speaker of the House Mike Johnson (R-LA) won the gavel, a government shutdown loomed ahead. Former Speaker Kevin McCarthy (R-CA) had kicked the can down the road to November 17, and the deal was the final nail in his leadership coffin. In the first real test of his power, Johnson has managed to avoid a shutdown.
On November 14, the House of Representatives passed Johnson's continuing resolution to keep the government funded through the rest of the year. The next day, the Senate voted overwhelmingly to pass the bill.
Johnson's continuing resolution was two-tiered. The first tier extends funding for transportation, housing, energy, agriculture, and veterans programs until January 19. The second tier funds eight other appropriations bills, including defense, until February 2. When the speaker first proposed the two-tiered bill, House Minority Leader Hakeem Jeffries (D-NY) said the Democratic Party would not support the legislation. However, he later changed positions, saying Democrats would help Johnson get the bill through Congress because it was missing all of the far-right's policy riders.
Ultimately, the House bill passed by 336 to 95. Democrats helped Johnson get the legislation over the hump; all but two of them voted in favor of the bill. In the Senate, it passed 87 to 11, with one Democrat and 10 Republicans voting against it.
The House Freedom Caucus wanted deep cuts to spending in order to pass a continuing resolution. With a Democratic Senate and president, a bill with those kinds of cuts had little chance of passing. The day after the House passed the bill, Rep. Chip Roy (R-TX) screamed at his Republican colleagues over its passage. He asked conservatives to "name one thing" they've done to help the American people since they won the majority.
Chip Roy throws down gauntlet in furious House Floor Speech against Uniparty Republicans:

"Name ONE thing we've done for AMERICANS since winning the majority!"🔥 pic.twitter.com/eQdf8ejiH2

— Benny Johnson (@bennyjohnson) November 16, 2023
Not everyone was angry. Senate Majority Leader Chuck Schumer (D-NY) praised Johnson for recognizing "he needed Democratic votes to avoid a shutdown." He expressed hope that they could work together to avoid shutdowns in the future, as well.
Copyright 2023, UnitedVoice.com