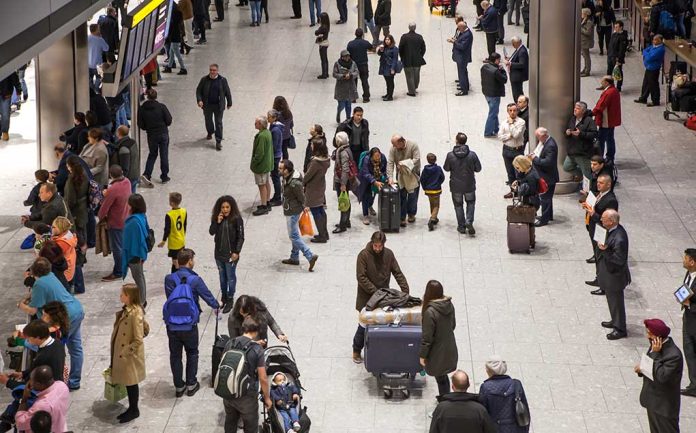 (UnitedVoice.com) – A fire broke out in a parking garage at one of the busiest airports in the United Kingdom on Tuesday, October 10. The blaze caused delays and cancelations for thousands of travelers. Fortunately, the airport is open again.
The fire broke out at the multi-story parking area at Luton Airport near London. Millions of travelers use the international hub each year. Andrew Hopkinson, the first chief of the Bedfordshire Fire and Rescue Service, told reporters that they believe a diesel vehicle was responsible for the fire. He dispelled rumors that it was because of an electric car.
"We don't believe it was an electric vehicle," Hopkinson said. He said they think it started with the diesel, then spread really quickly through the parking lot. However, everything is just speculation at this point.
The fire started just before 9 p.m. local time on the third level of the parking structure. The airport suspended all flights until 3 p.m. the next day. Passengers were asked to stay away from the airport because it was "severely restricted." Those who were in the airport were forced to sleep on the floor and wait for flights to resume again.
More than 100 firefighters and 15 fire engines responded to the scene to battle the blaze. Crews came from the London Fire Brigade, Northamptonshire, Cambridgeshire, Buckinghamshire, and Hertfordshire. Five people, including four firefighters, were sent to the hospital to receive treatment for smoke inhalation.
Authorities believed up to 1,200 vehicles might have suffered damage due to the fire. Part of the garage suffered structural damage.
Hopkinson said there was no sprinkler system to help control the fire. He believes it would have been beneficial. Approximately 25,000 people had their travel plans impacted by the shocking blaze. Those who lost their vehicles now have the added task of dealing with their insurance companies to have their cars paid for. Everyone impacted is being told to contact their insurers.
Copyright 2023, UnitedVoice.com