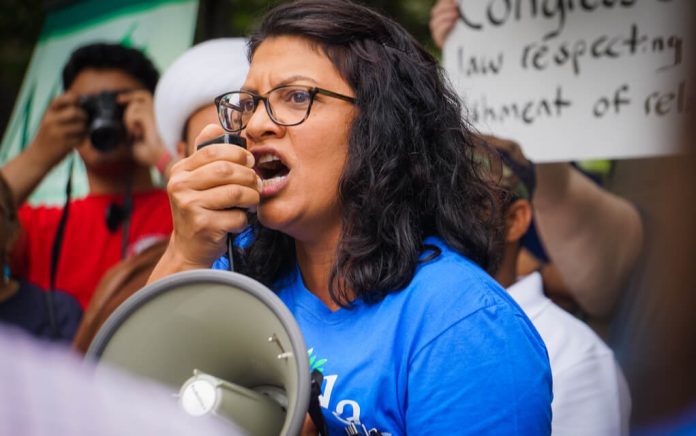 (UnitedVoice.com) – There have been people who do not believe in the right of Israel to exist since its formation in the 1940s after WWII. Many of those people believe instead in a one-state solution where Palestine takes its territory back, and Jews are exiled from the region. To convey that belief, they have a special chant. And when a congresswoman recently said it, she became the 26th member of Congress in history to receive a censure.
On November 7, the House of Representatives voted to advance a censure resolution put forward by Rep. Rich McCormick (R-GA). In the filing, he called on the House to officially reprimand Rep. Rashida Tlaib (D-MI) for promoting antisemitic rhetoric. The resolution came after the congresswoman shared a video on X, formerly Twitter, claiming President Joe Biden was supporting genocide by standing by Israel as it wages war on Hamas in Gaza. The video contained clips of people chanting "from the river to the sea," the chant that expresses support for the elimination of Israel. In a follow-up post, the congresswoman defended the phrase.
During remarks on the House floor, Tlaib, the only Palestinian-American member of Congress, accused her colleagues of considering her people "disposable" while supporting Israel's war. She said her words were being distorted and vowed to "not be silenced."
'Palestinian people are not disposable … We are human beings' — A tearful Rep. Rashida Tlaib defended herself before Congress on Tuesday, as the House's GOP majority advanced a resolution to censure the Michigan rep for her recent remarks on the Israel-Gaza conflict pic.twitter.com/CvTliKFc87

— NowThis (@nowthisnews) November 8, 2023
On November 8, the House brought the censure to the floor for a vote. Ultimately, the House voted 234-188 to censure her. More than 20 Democrats voted with Republicans to pass the resolution. Rep. Brad Schneider (D-IL) said the slogan Tlaib repeated is a "call for the destruction of Israel and murder of Jews." The Jewish congressman said that his colleague has the right to say what she wants, "but it cannot go unanswered."
Several members of Congress, including Rep. Jamie Raskin (D-MD), defended Tlaib. Raskin said the censure resolution "degrades our Constitution" and also "cheapens the meaning of discipline" in the House.
Copyright 2023, UnitedVoice.com