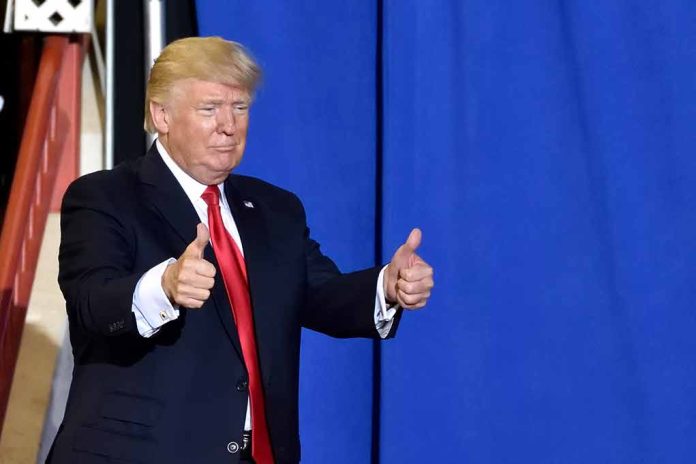 (UnitedVoice.com) – Former President Donald Trump has accused the political establishment of a witch hunt on him for years. Recently, there was an effort to keep him off of one state's primary ballot. But the courts handed the former POTUS a major victory.
On November 8, the Minnesota Supreme Court rejected a lawsuit to keep Trump off of the state's primary ballot. Liberals with Free Speech For People, the plaintiffs in the suit, argued that the former president should be disqualified from the race under Section 3 of the 14th Amendment.
The clause disqualifies people from holding office at any level if they previously "engaged in insurrection or rebellion" while holding a seat in government. The plaintiffs argued that the events of January 6, 2021, when Trump supporters attempted to stop the certification of the 2020 presidential election, was an insurrection and he should be disqualified for it.
Trump's attorneys called the lawsuit "anti-democratic" and sought to dismiss the case. The Associated Press reported the former president said it was a "fake trial" in Minnesota and that people were trying to "illegally remove" his name from the ballot. He said that if the effort was successful, then the country would "become a dictatorship," and Americans would no longer "have a meaningful vote."
Minnesota Chief Justice Natalie Hudson ruled there was "no state statute" prohibiting major political parties from adding a "candidate who is ineligible to hold office" to a primary ballot. The ruling pointed out that the primary election serves as an "internal party election to serve internal party purposes."
Although Trump won in this particular case, the court did not make a decision about the underlying 14th Amendment question. And the judges left the door open for another case to remove his name from the general election ballot, which is not an internal party process. Still, the former president celebrated the win, posting on Truth Social: "Congratulations to all who fought this HOAX!"
Copyright 2023, UnitedVoice.com