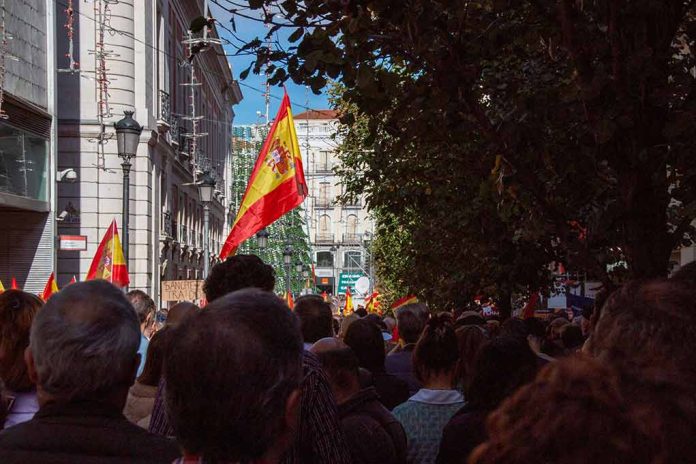 (UnitedVoice.com) – Tucker Carlson has had a busy year. After being fired by Fox News, the former television star started hosting a new show on X, formerly Twitter. Recently, he traveled all the way to another country to join a protest.
Hundreds of thousands of people have taken to the streets in Spain after Prime Minister Pedro Sánchez signed a controversial deal. The Socialist made a deal with the separatist Junts party that gave amnesty to secessionists who were part of the failed Catalan independence bid. After inking the agreement, the Junts threw their support behind the prime minister, giving him the majority he needed to remain in power.
The country's conservative party called on Spaniards to protest the move. They responded en masse, taking to the streets and waving signs that read "Sánchez Traitor" and "No to Amnesty." The bill granting amnesty to the separatists was introduced in parliament but has not yet been approved.
On Monday, November 13, Carlson showed up in Madrid with Santiago Abascal, the leader of the Vox party, on the 11th day of protests. The former Fox News host was swarmed by fans chanting, "Hey, Tucker, help us with this mother_____!" Approximately 1,200 people were at the protest at the time the American television host was there
According to POLITICO, Carlson accused Sánchez of violating the country's constitution, calling him a "tyrant […] a dictator." He said the prime minister was trying to end democracy in the country, and it's "happening in the middle of Europe." Young people at the protest recognized Carlson and asked to take pictures with him.
Carlson was reportedly in the capital city to interview Abascal.
Sánchez has served as the premier of Spain since 2018. For the last few months, the country has been in chaos after none of the political parties won a majority in the election. That put the prime minister's power in the balance and paralyzed the nation.
Copyright 2023, UnitedVoice.com