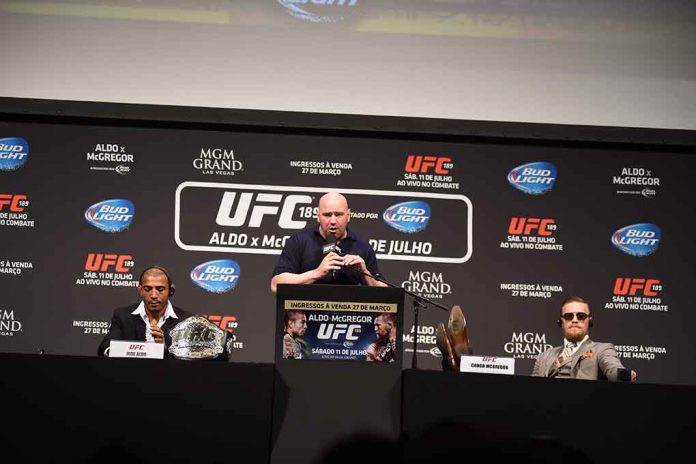 (UnitedVoice.com) – Americans on both sides of the aisle have slammed cancel culture. That hasn't stopped far-left Progressives and others from pushing to ostracize every person who disagrees with them. Even former President Barack Obama has said canceling people is "not activism" and warned his supporters to stop getting wrapped up in meaningless battles.
Despite the warnings, the push to cancel people has continued. Ultimate Fighting Championship (UFC) President Dana White recently revealed one of his sponsors wanted him to cancel former President Donald Trump. Not only did he refuse to do so, he had a special message for the sponsor.
Absolutely Not
White recently appeared on Theo Von's podcast, "This Past Weekend." During the interview, the UFC president discussed his longtime friendship with Trump. He also discussed leading the multi-billionaire company and explained how he chooses which sponsors to do business with.
White talked about the national health crisis and how that period taught him who everybody really was, including sponsors. Von agreed, telling his guest that when he had Robert F. Kennedy Jr., a presidential candidate and vaccine skeptic, on his show, sponsors told him that they didn't want their ads on that episode.
The UFC president said he had similar issues after posting a video supporting Trump on his personal social media account. He alleged that one of the UFC's major sponsors contacted him and told him to take the video down. He responded, "Go f*** yourself," and told the sponsor that they could vote for whoever they wanted, and he would vote for who he wanted.
White went on, saying "I don't even care who you're voting for. It's none of my f***ing business. F*** you. Don't ever f***ing call me and tell me who to vote for."
Trump Helped Save the UFC
White has previously talked about how Trump helped save the UFC in the early days. In an interview in 2022, he said the former president called him up and offered to host some of the events in Las Vegas at the Trump Taj Majal.
The UFC president said the brand was in such bad shape that venues didn't want to host them. He said that after Trump's call, they took him up on his offer, and he had "the greatest setup" for them. Both times they held an event there, Trump — who hadn't been elected yet — attended the entire event, from the first match to the last.
UFC President Dana White praises Donald Trump on @thepivot podcast:

"He's one of the most stand-up, solid dudes that I have ever met in my life. If he gives you his word, done." pic.twitter.com/G8ebLFT5tG

— The Recount (@therecount) May 3, 2022
White called Trump one of the "most stand-up, solid dudes that [he] ever met in [his] life," saying the former president always does what he says he's going to do.
Copyright 2023, UnitedVoice.com