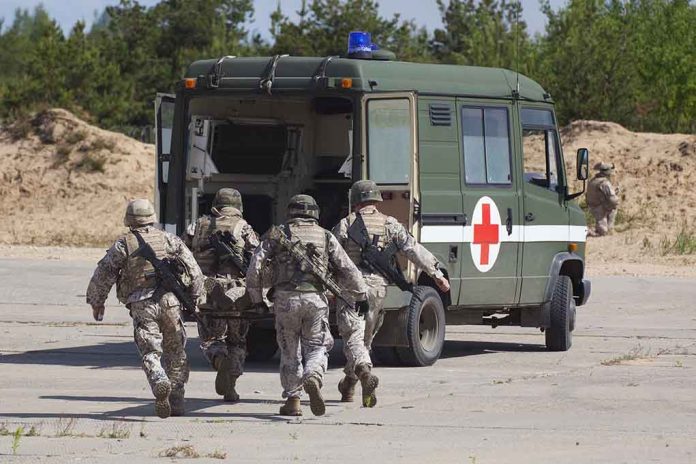 (UnitedVoice.com) – The world watched in horror as the Islamist terrorist group Hamas launched a brutal air, sea, and land assault on neighboring Israel on October 7. The attackers killed hundreds and took an untold number of hostages into Gaza, some of them American citizens. Since then, experts have raised the possibility that the conflict could lead to significant instability throughout the Middle East. Unfortunately, those concerns recently became a reality after dozens of United States soldiers sustained injuries overseas. Here's what we know so far.
Defense Department Officials Confirm Attacks
On October 19, Defense Department spokesperson Matthew Miller met with reporters to discuss various points of concern. He confirmed that United States troops stationed in Iraq had sustained injuries during a series of drone attacks the previous day. He said military officials were still looking into the incidents. He told reporters the Defense Department took the safety and security of American citizens overseas seriously, particularly members of the nation's military forces. However, Miller declined to provide any specifics about the attacks.
A few days later, Pentagon Press Secretary Brig. Gen. Pat Ryder (US Air Force) held an on-camera press briefing to provide an update on the situation in the Middle East. He told reporters that the United States Central Command was working on putting together a "comprehensive list" of the recent attacks on US troops in the region.
Ryder confirmed that between October 17 and 24, United States and coalition forces had sustained at least 13 separate attacks, three in Syria and 10 in Iraq. He said the incidents involved a combination of rockets and "one-way attack drones," meaning the unmanned aerial vehicles weren't expected to return to their launch site.
Ryder said the Pentagon had issued "prepare to deploy orders" to additional units. But, he related that to the best of his knowledge, those forces hadn't been sent to back up troops in Iraq or Syria "at this point in time."
United States Soldiers Injured
On October 24, The Washington Post (WaPo) published a report confirming that at least 24 US troops had sustained injuries amid the recent attacks on United States military bases in Syria and Iraq since the Hamas-Israel War began.
Citing unnamed US officials, WaPo reported that 20 US troops suffered from "minor injuries" on October 18 when multiple drones attacked al-Tanf, a US military garrison located west of the al-Walid border crossing in southeastern Syria along the M2 Baghdad-Damascus Highway. Likewise, four US personnel sustained minor injuries during a strike involving multiple one-way drones at the Ain al-Asad Air Base in western Iraq that same day.
On October 19, attacks were launched on US troops and coalition forces at three bases, two in Iraq and one in Syria. However, WaPo's sources said no injuries or structural damage were reported in those incidents. Attacks reportedly continued for three more days.
Neither the WaPo sources nor DoD officials confirmed the identity of the attackers.
Copyright 2023, UnitedVoice.com