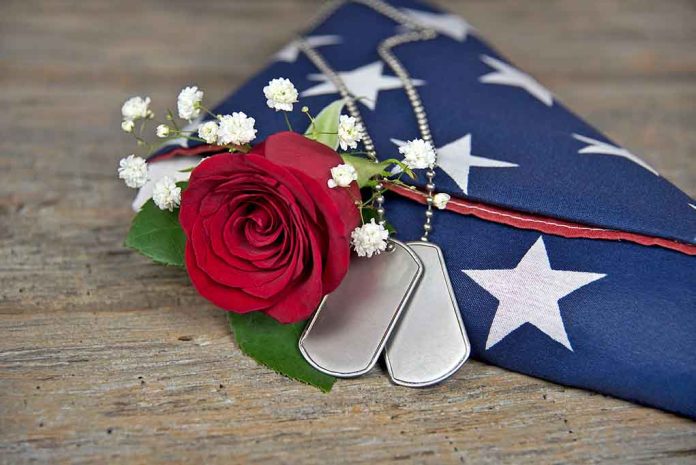 (UnitedVoice.com) – America celebrated Veterans' Day weekend recently, thanking the country's bravest for putting their lives on the line to protect the country's freedoms. While the nation was expressing its gratitude, the Army was mourning a major loss.
On Friday, November 10, five service members who were reportedly part of the US Army Special Operations forces died after their helicopter crashed into the Mediterranean Sea during a training exercise. They were crew members of an MH-60 Black Hawk and were on a refueling training mission off of the coast of Cyprus. Military officials are blaming a "mishap" for the accident.
According to ABC News, Lt. General Jonathan P. Braga said the military was mourning the loss of the "five incredible soldiers," who were all from "families with deep military service ties" across many generations. The Department of Defense issued a statement releasing the identities of the soldiers on Monday:
Chief Warrant Officer 2 Shane M. Barnes from Sacramento, California;
Sgt. Cade M. Wolfe from Mankato, Minnesota;
Chief Warrant Officer 3 Stephen R. Dwyer from Clarksville, Tennessee;
Sgt. Andrew P. Southard from Apache Junction, Arizona; and,
Staff Sgt. Tanner W. Grone from Gorham, New Hampshire.
Sgt. Wolfe was just 24 years old. His father, Scott Wolfe, is a deputy with the Waseca County Sheriff's Department. The department posted a message on social media expressing sorrow for the officer's family. Minnesota Governor Tim Walz (D) ordered the flags in his state to be flown at half-staff to honor Wolfe and the other four service members.
Barnes, 34, left behind his wife and two daughters, ages five and one. ABC 10 spoke to Reanna Walton, who served with him in Korea, and said he had a smile that "lit the room up." She said he "loved to train and he loved aviation."
New Hampshire Governor Chris Sununu (R) issued a statement that extended his condolences to Grone's family. He said his "heart was heavy" as he mourned the 26-year-old's death, along with the deaths of his fellow soldiers. Grone's father, Steve Grone, said his son had "plans and dreams," and his death was unexpected.
Sgt. Southard was just 27 years old. He enlisted in the military in 2015, and his father said he always wanted to be in special ops. He's survived by his wife and three children.
Chief Warrant Officer Dwyer, 38, graduated from West Point. William E. Cooper, the mayor of Enterprise, Alabama, where Dwyer went to high school, asked everyone to pray for the soldier's wife, three boys, and extended family.
President Joe Biden issued a statement saying he and the first lady were praying for the loved ones of the soldiers.
Copyright 2023, UnitedVoice.com