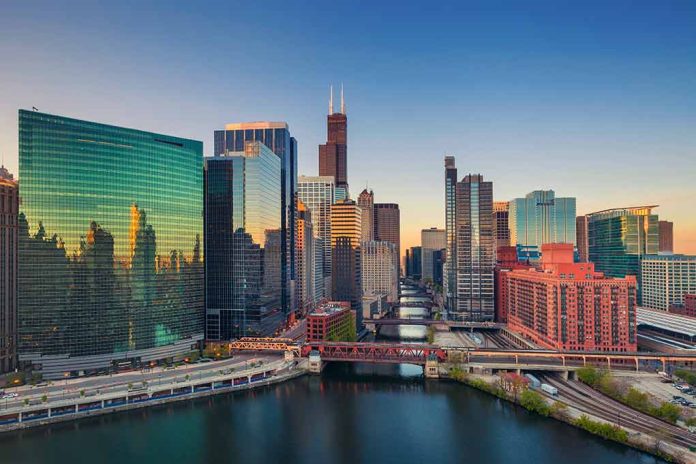 (UnitedVoice.com) – Chicago has long been controlled by Democratic politicians. The notoriously blue city kicked its mayor out of office earlier this year. Now, it appears they are ready to get rid of the new one, too.
Chicago Mayor Brandon Johnson campaigned on a hopeful message. He told the city residents that he believed a "better, stronger, safer city is something" they would all work toward when he took office. Months later, residents of The Windy City aren't impressed with the results so far.
New polling shows Johnson has a 28% approval rating. The Illinois Policy Institute polled 800 registered voters in the city. He is one of the most unpopular mayors in the city since 1979. The new mayor's approval rating is the lowest among people ages 40-49 at 24%. Voters ages 18 to 29 gave him 32%.
A poll breakdown shows 66% of voters disapprove of how he's handling crime and public safety. Sixty-three percent (63%) of voters are upset over the way the mayor has handled housing and homelessness in the city. Additionally, 64% are mad about the migrant crisis and how the mayor is addressing the problem.
Historically, mayors are popular at this point in their terms. That's not the case with the Democratic mayor. His approval rating is just one point higher than former Mayor Lori Lightfoot's rating when she lost her reelection campaign.
The approval rating is also quite a change for the mayor who was elected by more than 50% of the vote just a few months ago. At that time, 45.7% of voters ages 35 to 49 approved of him in April. Voters between the ages of 18 and 34 approved of him by a whopping 58.2% when he won the runoff election.
According to the Washington Examiner, the poor approval ratings could mean voters are moving away from their progressive ideals and are ready for a change in the city.
Copyright 2023, UnitedVoice.com