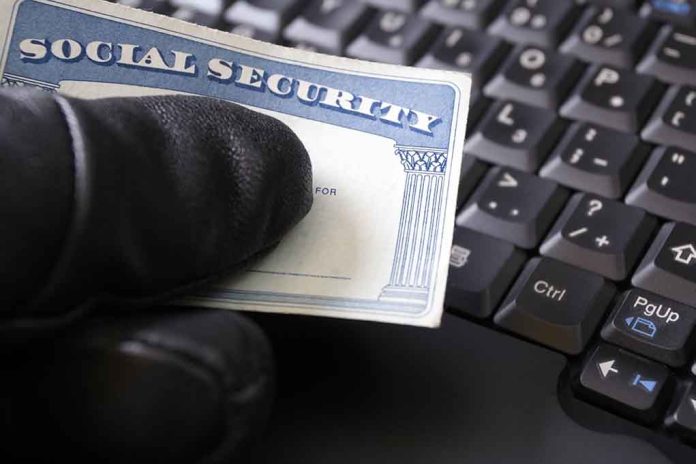 Social Security Identity Theft Is On The Rise – Here's What To Look Out For
(UnitedVoice.com) – Did you know that 65 million Americans receive Social Security benefits? With such large numbers of people taking advantage of a massive program they paid into, it's no surprise scammers are trying to steal personal information and untold millions of dollars. Some estimates suggest hackers have stolen 60% to 80% of Social Security numbers.
Before you fall into the trap of believing social security identity theft occurred because of a massive hack on a government agency or business, you might want to guess again. Thieves can steal and use your social security number in numerous ways in fraudulent activity. There are several scams you should be aware of to safeguard yourself. Here's the best part: You can protect yourself!
How Do Scammers Steal Your Identity?
While hackers may steal your Social Security number by hacking government agencies and businesses, that's out of your control. More and more, it's becoming harder for the bad guys to steal mass information as governments and businesses improve their cybersecurity capabilities. You may not know it, but many thieves will try to take advantage of you to steal your information.
Phone calls related to Social Security benefits are one of the easiest ways for scammers to get your personal information. The calls often come from someone claiming to represent the Social Security Administration. They will try to fool your caller ID into believing it's a legitimate phone call when it's not. The caller will also identify themselves as an actual government employee trying to assist you with a matter or allegedly provide you with information.
Another method scammers use is to present you with a service that will cost you nothing. Perhaps the scammer will entice you to ask for a free duplicate Social Security card, enroll a family member in Social Security, or provide you a record of your Social Security contributions to date.
Phone calls aren't the only way scammers try to steal your identity. They'll create fake emails that direct people to websites that look like real government websites. Perhaps you'll get a letter in the mail asking for personal information such as your Social Security number and banking information for direct deposits of your check.
There are ways to protect yourself. Let's get into a few of them.
How Can You Protect Your Social Security Number
Protecting your information is vital to safeguarding your identity from those who would destroy your life for their profit. First and foremost, if anyone contacts you claiming to be from the government, they probably aren't. Don't answer the phone. If you do and someone claims they're from the government, hang up immediately. By all means, never give personal information to anyone you don't know or trust.
If you want to know if a phone call, email, or mailed piece is legitimate, you can visit the Social Security website for more information or get a phone number to call them directly. If you need to report a Social Security scam, contact your local police department or the Social Security fraud hotline at 1-800-269-0271.
If you're a victim of identity theft, visit this website for updated information and how to report it to the Federal Trade Commission.
Copyright 2022, UnitedVoice.com