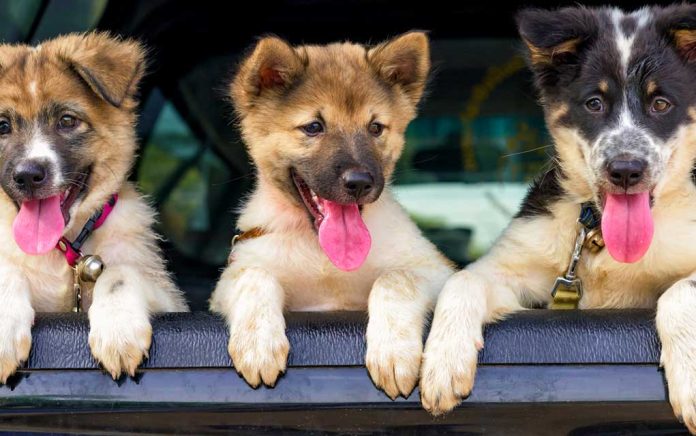 A dog is man's best friend, which is exactly why pet parents strive to spoil their pups rotten! If your dog comes with you everywhere you go – including in the car for drives or adventures into town – this post is for you.
Today, we're talking about some of the best recent vehicle innovations catering to canine companions. From ramps to help senior dogs climb in more easily to harnesses that protect Fido in the event of a crash, here's how you can make every adventure safer, more comfortable, and happier, too.
Key Facts:
Vehicle ramps: Older dogs often struggle with getting in and out of a vehicle, especially if the vehicle is a van or truck. Ramps lighten the incline and totally remove the need to jump up onto the seat. As with ramps for senior humans in houses, this reduces the risk of falls, injuries, and pain associated with joint problems. Most ramps simply fold up when not in use.
"Dog Mode" Climate Control: Tesla's new vehicles come with a nifty feature that ensures Fido is never left in a hot car. "Dog Mode" keeps the interior of the vehicle at a safe and comfortable temperature at all times. It also displays a message to passers-by informing them that the interior is safe for the dog, preventing smashed windows. "My owner will be back soon. Don't worry!," it reads. "The A/C is on and it's (temperature of car)."
Pet Harnesses: Prior until around the mid-90s, most of us kept our dogs safe by sticking them in the back seat. If they were small enough, they would sit in our laps instead. But truthfully, this isn't really safe; in an accident, they can become a projectile. That's where new five-point canine harnesses come in. Like a seatbelt for humans, they prevent your pup from flying out of his seat and also actively reduce injuries in the event of a crash.
Backseat Barriers: In addition to becoming a projectile risk, dogs can also suddenly clamor to get into the front seat – potentially blocking a driver's view. Backseat barriers made of mesh sequester the front and back so your dog can relax or stay safe without getting in your way. Use this one for the most rambunctious pups to keep both of you on the road.
Hammock Seat Protectors: Before his death, George H.W. Bush's beloved service dog Sully went everywhere with him. We're sure that meant occasionally letting Sully relax in the car at stops, too! If you're a fan of road trips or overnight stays (camping, perhaps?), a hammock seat protector can help you give Rover a safe place to sleep. These thick, cushioned blankets come in panels that fit in and over the entire backseat, including the seat itself and the seat backs. The result is a comfy, cozy sort of hammock where Rover can stretch out and catch some z's.
Water Trapper Mats: Have a dog who loves to swim? Everyone knows how bad your car can start to smell after a few trips – phew! Wet dog smell is no fun. Beat the scent by being smart. Put the back seat down (or just use your hatch if you have enough room) and drop in a water trapper mat. These ultra-absorbent devices will actively pull water off of him as he lays down during the drive. These will also trap mud, dirt, and debris, too!
Copyright 2019, UnitedVoice.com